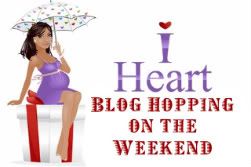 Rules:
-You MUST Follow the Host (Me) which I think is only fair
-You MUST Follow this week's Featured Blogger
-Leave Me a Comment so I know to Follow New Followers Back
-Family Friendly Blogs ONLY -I reserve the right to remove any blogs I feel are inappropriate
-I will choose a blog from those that enter to be a featured blogger via Random.org
-Have FUN meeting others.
This week's Featured Blog was Lucky #7 from last weeks hop:
I am Allison the woman behind Twingle Mommy. I am so excited to be this week's featured blogger for I Heart Maternity. I have a three year old daughter and 16 month old boy/girl twins. I write about our hectic, wonderful, and crazy life in Las Vegas. I also write reviews and have giveaways on my blog. I started blogging as a way to document my life and to connect with other moms out in the world. I say that my children have the ability to make me want to laugh and cry all at the same time, and I hope that I can make you laugh too!