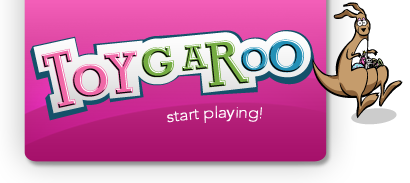 Have you heard of
Toygaroo
yet, the Netflicks for toys? It is the most awesome concept I have ever heard of. It's just like Netflicks, only you get toys in the mail instead of movies. I love the idea of renting toys instead of buying them.
How it Works
1. Add toys to your wish list.
2. Toys are mailed to your house.
3. You keep the toys for 30 days or more depending on the plan you chose.
4. New toys show up at your house.
My Experience
I was thrilled to get the opportunity to review this service for all of you. I put toys on my wish list that I thought my kids would like as Christmas presents. This way I could try them out before I committed to buying them. Because lets face it, every parent has bought a toy that they thought their kid would love, only to find out that they never play with it.
We were very excited to get our box!
Look at all those toys!
Isabella loved the Dora backpack.
Molly's 1st laptop
All toys are cleaned and certified with no yuck factor.
I love that she wouldn't drop the backpack to play with the other toy.
When our toy box came in the mail it was similar to Christmas morning in my house. The kids were so excited and they have not stopped playing with those toys even today, three weeks after we got the shipment. It was awesome getting new toys around the house since the kids really haven't gotten any new toys since last Christmas. They get so bored playing with the same toys and we try to cycle them out, but eventually they just need new toys.
Which is the beauty of
Toygaroo
, your kids get new toys every month! Think about having the fun and excitement of a birthday or Christmas every month for your kids. I didn't tell them what toys were coming so they were really excited to open the box. And they didn't know that it was coming so it was a surprise.
UPDATE
-When our second box came in the mail, the kids had the same reaction as the first box! They were so excited and Isabella told me "I love getting new toys at the door!" (FedEx drops them at the door) They weren't sad to pack up their toys and send them back since they knew they were going to get new toys. And Isabella helped my pick out a few toys online so she was very excited to have them come in the mail.
Another other great aspect of Toygaroo is that your kids get lots of new toys and you don't have to store them. I know storage is a huge issue in my house so it's nice to know that these toys will go back in a few weeks and we'll get new toys. Toygaroo cleans the toys for you, so you don't have to worry about germs or cleaning them before you return them.
Toygaroo has a large selection of toys to choose from. They made it very easy for you to search for toys by breaking it down into age categories. You can check out their toy selection
here.
Buy It!
There are several plans to choose from. They start at $24.99 a month for four toys at a time. You can see the different choices on their
website
.
Win It!
One lucky winner will receive a 3 month Joey subscription to Toygaroo! Disclaimer-you must register a credit card with Toygaroo to win this prize just in case you lose a toy or a toy part. They will not charge your card unless you continue the service. I had to give them a card too for the review. Only entries on the Rafflecopter form will count.