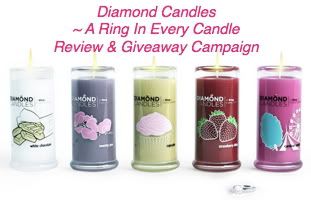 Here is an opportunity for bloggers to do a review and giveaway from Diamond Candles.
Have you experienced a soy candle with amazing aroma that inspires and makes your holidays go smooth and relaxed? Have you seen anything like waiting with anticipation what's going to be peaking out of the hot soy liquid while the candle is still burning?
If not, then Diamond Candles Company would like to invite you to Review and Giveaway their Precious soy candles. Why "precious" you'll ask? Well, each candle harbors a ring valued anywhere from $10-$100-$500-$5000 each. It's anticipation that really gets you going! What kind of a ring am I going to unveil from the glittery pouch hidden inside the soy wax?
For more information or to sign up to participate in this blogging opportunity click
here.