I know there are many readers that live where you have snow days. And you hate me in the winter just a little since it's so nice here in the winter. You can stop hating me now. Summer is in full swing and it came hotter and earlier this year. The kids are going crazy being stuck inside and did I mention that there is no more preschool? This also means that mommy is going crazy.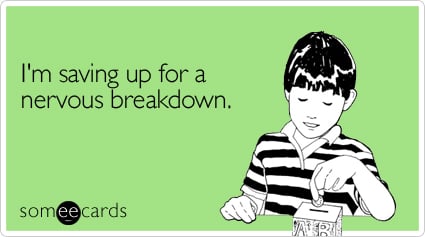 After a long HOT weekend (108 on Friday) we are going a little stir crazy. The kids are slamming doors, fighting, whining oh the whining, skipping naps, and really testing my unconditional love for them. Add in that I'm dealing with family drama, a guest puppy, and Mark getting tested for TWO different conditions, I'm a big ball of stress.
So this mommy needs a timeout. I pushed my hair appointment back a few hours so I could get some alone time. But I'm not sure if it will be enough, I may need to run away from home for a few days.
Although I think there is a flaw in my plan since Brett says he's coming with me. Who will watch the kids?
This too shall pass.
Right?