This is a Sponsored post written by me on behalf of
Kmart
for
SocialSpark
. All opinions are 100% mine.
Have you been in a retail store recently? The Christmas decorations have been out for a few weeks now which may seem early to some, but for me it's a reminder that I don't have that much time left to think about my
holiday gifts
. Living on a tight budget means that we have to really plan for the Christmas season. My husband and I try to buy some gifts throughout the year to cut down on the fourth quarter spending. And for our big ticket items we like to take advantage of Kmart's layaway program.
Unlike so many other retailers' layaway programs, Kmart allows you to lock in the price today without charging you a service fee, that's right Kmart has a truly
free layaway
program. And Kmart offers up to 12 week layaway programs for items over $300. All you have to do is make payments every two weeks during your contract and then the item is yours. And the best part is that you can do this all online so there is no need to drive to the store every two weeks. Kmart also offers a wider range of products available for layaway and you can put something on layaway all year long.
And this year, you can enter
Kmart's Big Layaway Giveaway
." The "Big Layaway Giveaway" is one layaway giveaway per Kmart store per week beginning on September 9, 2012 through November 17, 2012. So this is the perfect time of year to place an item on layaway. Not only will you lock in the price now, but you can possibly win the item. What could be better than a free Christmas present?
We are buying our kids bikes for Christmas this year and I know that my son would love this one from Kmart. I would love to win this bike for my son and since I have to buy three bikes this Christmas, it would really help out with our budget.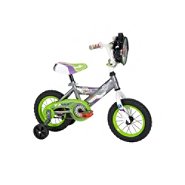 So what are you waiting for? Head over to Kmart and check out their "Big Layaway Giveaway." And remember there is no purchase necessary to win.