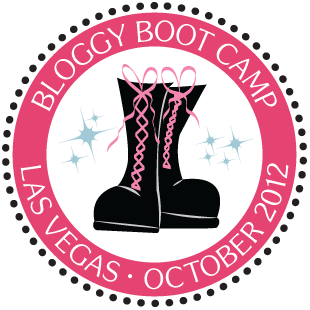 OK here is a confession a few days early. I've always wanted to go to a blog conference, but going somewhere where I know no one is totally outside my comfort zone. BUT I decided to take the plunge and not step outside my comfort zone, leap outside my comfort zone and attend Bloogy Boot Camp this last weekend. I'm so glad that I did, it was awesome!
Have you ever been the new kid at school? Everyone knows everyone except you and you feel totally left out and awkward on the first day of school. Yep that is exactly how I felt when I got there. But I decided to get over myself and introduce myself to some women and guess what? They were nice! Whew I could relax and enjoy myself.
I learned so much in one day! Normally I'm not very good at sitting in one place all day and I get bored. That didn't happen. My hand was cramping at the end of the day from the many, many pages of notes that I took. What can I say? I'm a total school nerd, I even take notes at church. I left with so many ideas and a tummy full of delicious wine from Mirassou and I vowed to tackle my to do list on Sunday.
Yeah, that didn't happen. In fact my to-do list grew so long (write post about boot camp-check) that I continued to avoid Monday morning. This little procrastinator decided to do the following things instead of work on this blog before 1pm. I really need you to keep the time frame in mind since I'm more than a little proud of myself for getting so much done.
dishes
dress three kids
laundry-including sheets
finally sprayed down mattresses with enzyme cleaner
cleaned carpet in girl's room-thank you Molly for peeing in your room
meeting with Mark's DS-it was planned but it still counts
returned 3 phone calls
made breakfast, snack, and lunch for kids
broke up two dozen fights
made applesauce-in the crockpot-it still counts!
swam a mile at the gym
justified that my workout deserved 20 minutes in the quiet room and checked FB
Dang! I need to avoid work more often. I cannot believe how much I got done in one morning. Although someone asked me (they shall remain nameless since I sometimes like to protect the innocent) why I didn't clean the rest of the carpet since I dragged out the carpet cleaner. My "phone cut out" so I was unable to respond.
So now I have one bloggy boot camp to do list item checked off. I must get to work on everything else. I had an amazing time and I would attend again in a heartbeat! Thank you to the SITS Girls for all the information and fun conference. I'll leave you with one of my favorite quotes of the conference.
"Don't try to win over the haters, you're not the jackass whisperer." Scott Stratten