A few weeks ago I introduced you to
TeenyMates
, collectible pint sized football players. My kids absolutely loved the TeenyMates, they love playing with figurines and they practiced tackling with the TeenyMates.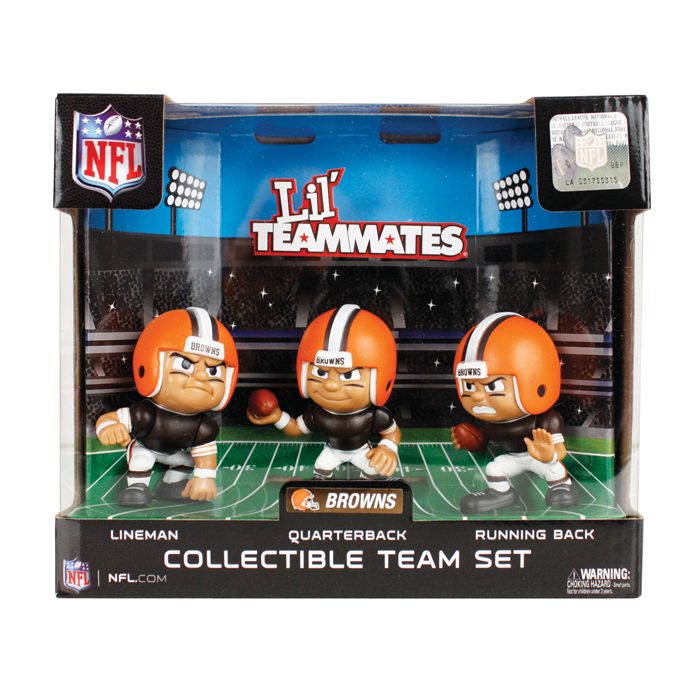 And I have another giveaway for you from the same company
Lil' Teammates Collectible Team Sets
. The Collectible Team Sets include all three positions for our NFL figures: Quarterback, Lineman and Running Back. They are the same size as the single packs of Lil' Teammates, but allow collectors to get the whole team in one package. And while I loved the idea of a blind pack for my kids to collect all the quarterbacks, I know some of the older boys in my life will like getting players from their favorite team.
And while I had every intention of letting my kids play with the Lil' Teammates, my husband claimed them for himself. He thought that the set went with his bobble head collection perfectly. But my kids are pretty good as convincing their daddy that they should be able to play with something so they did get a chance to play with them. My four year old said she liked the new football players better now everyone could have the same team. Instead of each kid having a different player, they each have a different position on the same team. Personally, I like that they come in a set of three since I have three kids.
The Lil' Teammates are currently available in 22 NFL teams.
• Chicago Bears
• Cincinnati Bengals
• Denver Broncos
• Cleveland Browns
• San Diego Chargers
• Kansas City Chiefs
• Indianapolis Colts
• Dallas Cowboys
• Miami Dolphins
• Philadelphia Eagles
• San Francisco 49ers
• New York Giants
• New York Jets
• Detroit Lions
• Green Bay Packers
• New England Patriots
• Oakland Raiders
• Baltimore Ravens
• Washington Redskins
• New Orleans Saints
• Pittsburgh Steelers
• Minnesota Vikings
Buy It
Lil' Teammates Collectible Team Sets are available for purchase at Target, Sporting Goods stores, team shops, and toy and gift stores. MSRP $24.99
You can also purchase college and hockey team sets exclusively at Kohl's.
Win It
Two lucky readers will win a Lil' Teammates Collectible Team Set for themselves! This contest is open to US residents, use the rafflecopter form to enter.
a Rafflecopter giveaway