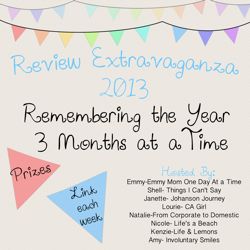 I'm a little late to the party so this post is going to be a recap for the first six months of the year instead of three. I love looking back at my old blog posts and seeing what was going on in our life at the time. And it's not too late for you to join the party either. Just click on the link above for the rules.
January
Your Child's First Babysitter
- The special relationship that forms between your kids and their babysitter. We started 2013 with a tragedy that still hurts my heart.
Unplanned Blogging Break
- Between illness and two tragic deaths, I just didn't blog much in December and January.
February
How to Keep Your Sanity When Eating Out with Kids
- I've learned several lessons over the years of eating out with kids that I'm passing on to you.
How to Make a Rainbow Sprinkle Cake
- I am not much of a baker and forget about me spending too much time making cakes actually look good. Which makes this cake not only foolproof for anyone to make but a huge success for me.
March
Random Act of Kindness
- A man changed my day and gave me a huge blessing at the DMV.
Mint M&Ms Are Not For Sharing
- Every mom has something that they won't share with their kids right?
April
Tips on Moving Across the Country
- We moved from Las Vegas to Raleigh and the move was a disaster!!! I shared what I learned during our move so you don't make the same mistakes we did.
Motherhood Confessions
- My thoughts on calling someone a bad mom.
May
What I Would Have Told Myself the Day my Son was Diagnosed with Cerebral Palsy
- Oh the things I wish I could have told myself on that day.
Confidence, My Sons Best Weapon Against CP
- I loved seeing a huge improvement in my son's confidence this year.
June
10 Types of Moms at the Park
- Which one are you?
Quinoa Stuffed Peppers Enchilada Style
- I love this recipe and it's been a huge hit in my house.
That was harder than I thought picking out a few posts from each month. I'm looking forward to the next six months.